How to buy gold bullion the safer, cheaper & easier way.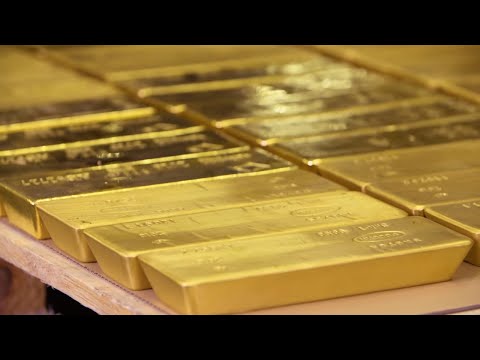 Play Video Online
Description :
Go inside a working gold vault with Paul Tustain (Founder) & Robert Glynne (CEO) as they explain how BullionVault provide a safer, cheaper and easier way to own gold and silver bullion.

Transcript:

BullionVault provides private investors access to the professional bullion market. It holds over 2 billion dollars worth of clients assets the largest stock of privately-held bullion in the world.

BullionVault gives private investors access to the professional markets and we undertake to make your bullion purchase safer and cheaper and easier than anybody else.

BullionVault buys gold in the large bar format which is the format of 400 oz bars that the professional market deals in and makes that gold available to private investors to buy and sell in one gram increments.

Some people like to buy coins or small bars but it isn't the most efficient way of owning physical gold.

You want to be owning gold in the wholesale format that's the format that the professional market deals in. That way you pay the lowest amount to buy it and you get the highest price when you sell it.

What we do at BullionVault is to keep the bullion in the wholesale form that's where costs the least and sells the most.

This is one of the one of the specialist storage facilities used by BullionVault.

Safety is absolutely at the top of what every gold investor is looking for. This bullion that we trade has left a refiner with a stamp on the bar we know exactly how pure to it's never been through private hands it's warranted all the way back to the refiners custody and is guaranteed by us and by the refiners all the way back through the chain, so we know that it's good material.

BullionVault recommend overseas storage in a stable country to protect from the imposition of domestic exchange controls during a crisis.

As a full member of the London Bullion Market Association BullionVault must use these vaults and stay independent of them.

Clients can choose their preferred locations from London, Zurich, Singapore New York or Toronto. Insurance actuaries rate these professional market vaults as the most secure locations on earth meaning that the cost of both storing and insuring gold at BullionVault is usually much less than just the cost of insuring gold kept at home or in a safe-deposit box.

BullionVault provides multilingual customer support from its headquarters in West London. Setting up an account is quick and easy. Signup, transfer funds to your account and you're ready to buy bullion 24-7.

What BullionVault offers to people is a route for the private investor into the professional bullion markets. By doing that we can make their investment in gold they safer, cheaper and easier.
Duration : 3.01
Published : 22 Feb 2017
Views : 52,364
Rating : 4.29 (Very Good)
Related Videos